Projects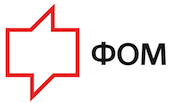 Public Opinion Foundation
Area m2:1160
Client:
Фонд Общественное Мнение
Year of implementation2015
Task
Public Opinion Foundation group works in the field of sociological research and creation of complex communication solutions. The new office was the first step on the way to the company's rebranding and led to establishment of open and effective working environment. Our business goal is: to provide comfortable conditions for work and free and informal socializing of the staff members. The customer wanted the office to reflect corporate culture of the company, be intelligent and composed but at the same time dynamic, free and original. It was necessary to design work space for almost 100 employees, and provide for executive offices, a lecture hall, 5 meeting rooms, a kitchen, a lounge with a bar counter, technical and warehouse facilities. We made use of our trusted European partners in the project such as Koenig+Neurath, Sancal, Pedrali, Gispen, Narbutas, and Antares.